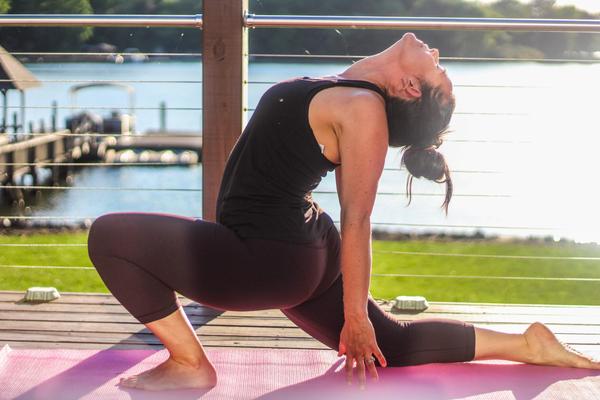 Return to Your Core
An 8-week, online yoga experience to

connect, move, breathe, and remember.
As women, we're constantly being pulled away from our center as we shift gears from one task to the next. Often on auto-pilot without adding ourselves to the list of people that need our attention. 
Yoga helps strengthen your body while freeing your mind from the mental clutter that weighs you down. From this place, you can tap back into the core of who you are and from there anything is possible. 
I understand you're busy and that you juggle a lot of responsibilities. That's why our time together is designed to be potent and healing. You'll take care of your body, health, mind, and heart so that you can act from your calm, present, loving center.
Details: Fridays starting Oct. 21 at 9am-10am EST.
More than a yoga class. The first and last class will be 90-minutes: 60-minutes of flow and 30-minutes of opening/closing sharing, intention setting, and community. We all have the best intentions to follow through with our goals and this series will help hold you accountable. You'll also be guided to check-in with yourself through reflection questions and journaling.
Eight, 60-minute, virtual flow classes. Together we'll move through a progressive series of yoga classes to strengthen, lengthen, and revitalize you. We'll move, breathe, and connect with ourselves and each other. Classes are all level, although some yoga experience is recommended.
Flexibility and Accountability. All classes are recorded and available for one week to keep you motivated to keep up with the series even if you miss a live class. 
Bonus: I'll be available before and after classes if you want to connect, share wins, or ask a question. You'll also get special discounts on my other offerings.
This 8-week series is the perfect opportunity to build strength week by week while getting clear on your priorities so that you can take focused action toward being the happiest, healthiest, truest version of yourself. 
After 8-weeks you'll:
Feel stronger, more relaxed, and appreciative of your body 

Have tools to stop overwhelm and stress in their tracks

Experience that calm center within you that always knows the next best step 

Witness the power of communing and sharing with like-minded women  

Move forward as your best, most grounded, authentic version of yourself 
Investment:

$155*
After you make payment by clicking the sign up link below, you'll receive more details with the Zoom link for classes and more details on our first class. *Goddard school teachers and parents get 20% off – email me for the coupon code.  
If your mind, body, heart, and health are saying it's time to take care of me – CLICK HERE TO SIGN UP.    
Try a free class with Jackie! Press play and enjoy. 
Meet Jackie
Jackie Dominas is a yoga teacher and life coach helping women navigate the busy-ness of life while making peace with their bodies, calming their minds, and creating time for what's close to their hearts.
For 16 years she's worked in the wellness as a dietitian, personal trainer, yoga teacher, holistic health coach, and spiritual teacher helping hundreds of people see and act on their full potential. She meets her clients where they are and lovingly encourages them to rewire the patterns that keep them feeling stuck.
Her own health journey of years of infertility, a traumatic then healing birth, pelvic organ prolapse, depression, initiation into motherhood, and growing a business while holding true to her priorities as a wife, mother, and women has solidified her passion for the work she does in the world.
Yoga has been her constant companion throughout all seasons of  her life starting at a young age. Her classes are accessible, challenging, and playful with a focus on alignment and linking movement with breath.
Jackie lives in Fort Mill, SC with her husband and two young sons. She enjoys geeking out about the moon, modern motherhood, and the gifts of being a woman. In addition to teaching yoga, she hosts monthly moon circles, blogs about living a purposeful + happy life, coaches women 1:1, hosts retreats, workshops, and yoga teacher trainings.
"Don't just take my word for it – here's what students have to say: 
"I had done yoga for years but never consistently showed up for a class or with a specific instructor until Jackie's classes. This on-going series is what's getting me through right now – our practice of breathing as a way to return to my calm center, and as a reminder that this is all temporary (what's difficult or what's challenging) and that iIhave the strength to navigate it all." -Kristina
"A class that is great for your body and mind. Jackies and her classes are always a treat for my self-care journey." –Kate
"These classes have helped me remember how important getting connected to my physical center is for movement during yoga practice. Ive also noticed how feeling stronger and more integrated in my core has helped me bring strength to other areas of life, like setting healthy boundaries. The writing and meditation prompts have been one of my favorite parts of class! Combining the movements with some time to check in with myself in my mind or on paper left me feeling grounded and centered after every session." – Jennifer
"I truly love Jackie's classes and her calm nature. I feel like she teaches true yoga for mind, body and spirit and not just a workout.  I always feel great after her classes." -Joanne
"I've been practicing yoga with Jackie for 12 years and her virtual classes give us a chance to sync and interact with other women. She designs these series so that attendees can not only get into their body, but have the chance to reflect on that and share some of that experience with others. This easily flows over into daily life and you feel part of something bigger – something greater than yourself." – Olivia